Calming Orthopedic Cat Bed
Our Calming Cat Bed are the best cat beds for anti-anxiety. Orthopedic Cat Beds helps relieve joint and muscle pain of your cat and make them calm.
OVER 24.3 MILLION CATS IN UNITED STATES SUFFER FROM ANXIETY ATTACKS.

The cause for anxiety is fear of the pet's environment or separation from their companion. So, how do we help stop these preventable anxiety attacks?
Simple: Create an environment they feel calm and safe in with our Calming Cat Bed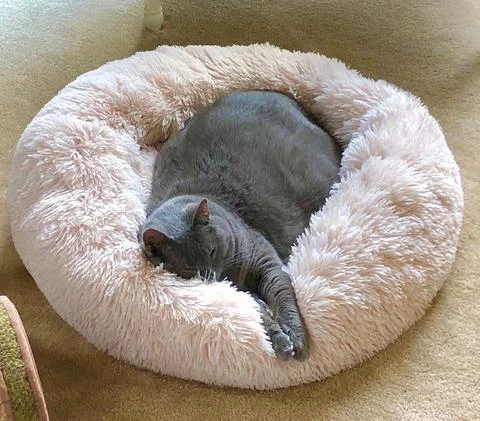 Stuffed with high durable material for long life cycle considering Pet's comfort.


Size Chart:

Sizes (centimeter / inches)
Estimate Only
40 cm / 15.75 in
Up to 5 lbs (Pound) / 3 kg

(For too small baby cats)

50 cm / 19.68 in

Up to 14 lbs (Pound) / 6.8 kg

60 cm / 23.62 in

Up to 24 lbs (Pound) / 11.3 kg

70 cm / 27.55 in

Up to 34 lbs (Pound) / 18.14 kg

80 cm / 31.50 in

Up to 44 lbs (Pound) / 20.4 kg

100 cm / 39.37 in

Up to 99 lbs (Pound) / 45 kg

Best to Ease Anxiety: Our Calming Cat Bed can help relax and ground your furry friend. This concept is known to therapists, who have been using it for decades to help ease anxiety.
The raised rim around the Calming Cat Bed creates a sense of security in them and activates their nervous system which allows your cat to calm down faster, relax more easily and sleep more soundly, while the super-soft filling offers joint and muscle pain relief.

Extra Comfort: Long Plush, Super Fluffy and Super Warm Calming Cat Bed for the pets who love to curl up. Reducing the deformities in bones and muscles.

Soft Vegan Fur Fabric: Calming Cat Bed is made with non-toxic high quality fabric and has high life cycle. Easy to clean and machine-washable.

Luxurious Design: Pure Color and Luxurious Design of Calming Cat Bed is a great addition to the design of any home.
Easy to Clean: Calming Cat Bed is safe in Tumble Dry and Dryer.